Last weekend Shooters Media pitched up at a Rossendale graveyard (of all places) to shoot scenes for a new short film being produced in the valley.
If one word sums up the experience, it was "bitter"! It's not that we held any grievances with anyone; I mean it was absolute ice blocks! The mourning extras must have felt frozen before we wrapped, but hats off to their perseverance. And if we learned just one thing that day it's this; you CAN get piles from park benches. Fact. (According to the Lead Actress)
On the day we used a simple Canon 5D setup with 28-105mm L series Lens and a GlideTrack Shooter HD on two Manfrotto tripod supports.
Shooters assisted Patrick Duffy who is shooting his final production for his college course at Accrington & Rossendale College, and under his direction cast members from The Rossendale Players Theatre Group from Waterfoot played the roles in the script that he wrote himself.
The short story features Dorrie Partington playing a career-driven Magazine Editor, Sarah. While making a visit to a care-home, she eventually learns the foundations of relationships from her grandmother - played by Alison Topping.
After her passing, Sarah begins to realise the meaning of family and the importance of finding that special someone - who does eventually show himself in the most unusual place.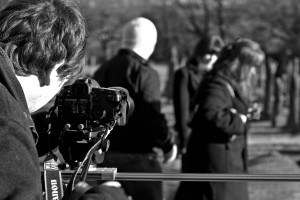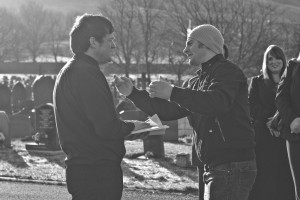 To Sarah With Love also features Jon-lee Harvey, who can been seen featuring in Channel Four's teasers for the new series of Shameless.
You can catch Dorrie and the rest of the Rossendale Players in Straight and Narrow, a comedy directed by Andrew Husband from the 17th - 24th March at The Millenium Theatre in Waterfoot.
Lets just hope that Dorrie doesn't have to do any scenes sat on a bench...
If you are student and you would like any assistance with any film-making project, please don't hesitate to get in touch. If we are available, we are more than happy to help. Just be sure that scripts, storyboards, casting and all production planning has been arranged and completed before production starts. We wont do the work for you.